Security Problem: The Reed Switch
CONSTRUCTION VULNERABILITIES
INVENTED IN THE 1930's for telecom-munications, the reed switch was later adopted for use in security sensors to detect breaches in doorways and windows. Despite the reed switch's widespread acceptance, an EXPLOITABLE operational flaw and construction weakness potentially undermines its effectiveness.
ARMED WITH A SIMPLE MAGNET,
 intruders can easily defeat a single reed switch sensor from outside and enter almost any home or business undetected.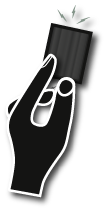 HIGH VOLTAGE
 from lightening, power surges or stun guns can weld a reed switch sensor in an "armed and secure" state and may result in undetected break-ins.
Solution: MAGNASPHERE Sensor
INVENTED AND DESIGNED to address the undetected breaches of security that could occur when using easily exploitable and fragile reed switch sensors. MAGNASPHERE'S award-winning and patented technology is virtually unbeatable and unbreakable.
MAGNASPHERE
 provides the same external magnetic defeat protection found in the Federal Government's most secure installations, but at a fraction of the cost and size.